Come to the Annual General Meeting on 11 April
You can now influence the model to be used for calculating insurance premiums payable to the Danish Shipowners' Accident Insurance Association (UFDS) as of 2020. Attend the general meeting this week and:
- Give us your input before we decide on the ultimate model
- Hear about the board's deliberations regarding a new pricing model
- Get insight into our market analysis of the impact a new model will have.
The annual report for 2018 also has to be adopted, and we need to elect a board, a deputy chairman and an auditor for the upcoming period.
The new model will affect your insurance premium
The new model will affect the premiums of all our members. Your premium will increase or decrease, depending on your risk profile. This is why getting your input at the general meeting is so important.
We have had an analysis conducted of the impact a new pricing model will have and are looking forward to presenting the results at the general meeting. In brief, UFDS aims to remain competitive relative to commercial insurance companies.
The general meeting will be held as follows:
Date: Thursday 11 April 2019
Time: 10:00-11:30am
Venue: Danish Shipping's conference room, Amaliegade 33, Copenhagen
If you have not already done so, you can register to attend the general meeting by clicking the button below or sending an e-mail to This email address is being protected from spambots. You need JavaScript enabled to view it., typing 'Registration for general meeting' in the subject field. We will then send you the agenda and a copy of the annual report, which will also be presented at the general meeting on Thursday.
We are looking forward to seeing you!

Best regards,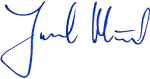 We have listened to our members' wishes
We have chosen to listen to our members' request for more transparent and better differentiated pricing based to a higher degree on the individual member's risk.
Accordingly, we have taken steps to find a model that takes due account of members with a low claims level while still retaining the solidarity on which UFDS is built, says Lars Henneberg, Chairman of the Board.