As one of Northern Europe's largest passenger liners, DFDS has extensive procedures for safety on board its vessels, and preparation and documentation are highly prioritized. However, older equipment creates challenges to be dealt with.
»Most accidents occur when routines kick in, especially on Ro-Ro ferries, with the same route, the same ports, the same people, the same working hours and environment, the same British weather. So, our main focus is on doing things by the book, one step at a time, in a safe way.«
Joachim Busse chief officer, Princess Seaways
On a warm September afternoon in the port city of Ijmuiden, some 30 kilometers outside Amsterdam, the good ship Princess Seaways is being prepared for departure on her regular route between the Dutch capital and Newcastle in north-east England.
The crossing takes about 16 hours, and about halfway through, the more than 1,250 passengers can wave their hands at sister ship King Seaways sailing in the opposite direction. During the trip there is ample opportunity for recreation, shopping, and dining in a wide range of restaurants, shops, bars, cafes, cinemas, and a casino, as well as plenty of entertainment for the children.
From start to finish destination, the safety of both passengers and the approximately 150 crew members must of course be top notch. To hear more about how to handle this task, UFDS has visited the ship, invited by the Danish captain, Jesper Bern.
»Safety is part of DFDS tradition. Partly against a sad background with the accidents around Scandinavian Star and Estonia, which accelerated some things in its time, but also just as part of the company's culture. I have been to a lot of places for DFDS when we invest in shipping companies, purchase ships and so on, and to that end, I am absolutely sure that we are leaders in this field,« he says.
Princess Seaways was built in 1986 and renovated in 2006, so she has some years on the seas behind her, which presents a fair amount of challenges aboard, not least in the engine room, where temporary solutions and difficult working positions are difficult to avoid.
»We deal with these conditions on a daily basis, and we do a lot to make sure it's a safe place to work, which is basically is. It is relatively rare that we have work related accidents, and when something does happen, it is at the level we call 'minor', I haven't seen a major incident in my time here,« Jesper Bern, who has sailed for DFDS since 2005, says.
Routine is risk
Jesper Bern further emphasizes that safety is a common thread in every step taken on board, not least considering the many different passengers who sail on the popular route across the North Sea.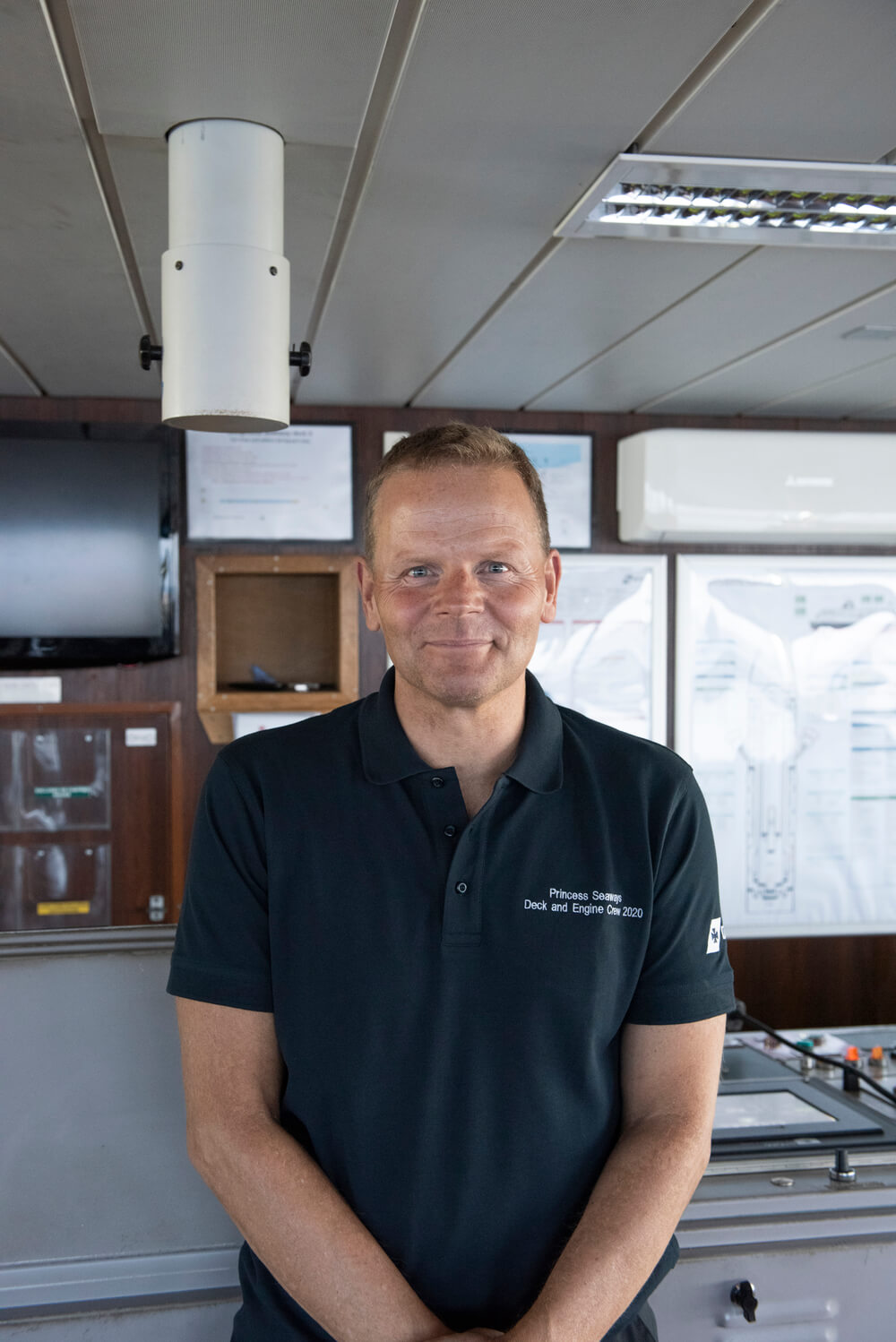 »Across the summer, we have 150-200 children on each trip, so you walk that extra mile to make sure that all the fire doors can close, and all the systems are up-to-date and running as they should. It's a huge responsibility,« he said.
The fact that a ship like Princess Seaways – in line with a large number of other DFDS vessels – is in route operation is actually a kind of risk in itself, because routine quickly sets in when you call at the same port every other day in turn and go through the same processes on a daily basis.
»It's a built-in element of being in route operation, but our thorough checklists help us a long way down the road. We also encourage everyone around us to react if there is something they think looks out of place, and this also applies here on the bridge. They are not afraid to let us know if we turn a little late or fail to slow down enough, they're on us right away,« Jesper Bern says.
With the latter, he alludes to the cultural differences between the ship's officers, hailing from both Denmark, Romania, and Poland. These issues have however been addressed to ensure that no one hesitates if a situation should escalate.
»I think we're good at that. This also applies to the Filipino part of the crew; they are extremely talented, but also authoritative in a different way, so we try to iron out those differences a bit. The goal is for them to call me Jesper instead of 'captain', and we've come a long way,« Bern comments.
To coordinate safety work on board Princess Seaways, selected crew members meet up in the ship's safety committee every six weeks. The committee is headed alternately by Jesper Bern and the ship's other captain, Daniel Vang, and also consists of deck officers, engineers and catering representatives.
Here, all safety-related topics are discussed in relation to the handling of various tasks and how safety can be constantly improved, whether it is through workflows or equipment.
Scheduled drills throughout the year
But strategies and papers are one thing, quite another is how things are done in reality. To get a first-hand impression of this, UFDS meets chief officer aboard Princess Seaways, Joachim Busse, who has a large part of the overall responsibility for safety on board, including the risk assessments that are continuously prepared when tasks are to be carried out.
»We use a program called Seahealth, where we have our procedures that we can follow step by step when, for example, we need to paint, use our forklifts, load or unload, when we´re mooring and so on. What should we avoid, what should we focus on so that accidents do not happen,« he says.
All crew members have access to the program and can log in at any time to see how a task should be performed if they are unsure. Before that, they have been through an extensive training course, of course depending on their position on board the ship, as there is obviously a big difference between working on the car deck or in the tax-free shop.
»There are different requirements for them in terms of safety, but at the same time the crew must also be able to cooperate across disciplines. As a passenger vessel, we must perform drills every week and for this, all crew members have a safety card with a number that corresponds to our safety board. Here, the individual can easily see his or her role in the event of an alarm,« explains Joachim Busse.
The alarm types range from damage control in the event of a collision with another vessel and there is a risk of hull breach and taking on water, to fire or smoke development that requires evacuations of certain areas of the ship, or man overboard.
As soon as an alarm sounds, each crew member can look at his or her card to see, where he or she has to report to help deal with the situation. It also states where to direct passengers in the event of an evacuation.
Drills are scheduled for the whole year – this weeks agenda consists of maneuvers with the fast rescue boat – ensuring that everyone from the crew is involved and you cover as many scenarios as possible.
»There are quite strict requirements for us because we are a passenger vessel, so we have to do far more drills than a cargo ship with 20 crew members. Therefore, we also need to know what each other is doing and where to look if you cannot find a colleague in an emergency. It works really well,« Joachim Busse says.
Great respect for fire on board
As an industry engaged in both passenger transport, freight hauling and entertainment – cruising in scheduled services is a relatively unique mix – DFDS was hit hard by the corona pandemic and had to say goodbye to many employees, not least among the slightly older crew members.
As activities ramped back up returning to more or less normal levels, it has obviously been necessary to re-fill a lot of positions, which for Princess Seaways has meant a change in crew of 40-50 percent over the last year or so.
»It takes time for them to get into the tasks and generally to get the machinery running optimally, but I think everything is back on track now and it's all good,« says Busse.
One of the major risks in shipping is the danger of fires on board the ship, which DFDS of course has extensive plans to both prevent and control on Princess Seaways, as well as on its other vessels.
Joachim Busse shows the ship's fire plan as a cornerstone of safety on board. Fire is something that is highly respected and taken very seriously, because if allowed to spread across a ship clocking in at 163 meters in length, with 11 decks reaching 28 meters above water, it can very quickly become critical.
»If you don't react fast enough and contain the fire, you'll probably have to evacuate everyone on board, because a fire is very difficult to put out. On the fire plan, we can see all the detectors, fire extinguishers, fire hoses, valves and so on, so we can locate the equipment even if it is filled with smoke,« he explains.
Similar to the fire system, all ship systems have their own plan, so escape routes, equipment, task allocations, meeting places and so on are mapped out. And like many other procedures, this kind of thing is largely digitized, as are the risk assessments that are regularly carried out prior to handling various major tasks.
»For example, when we have crew members who have to work aloft, they can note the associated risks eg. falling down, falling overboard or using protective equipment incorrectly. Weather conditions are also a factor they must deal with," says Busse.
Safe in every step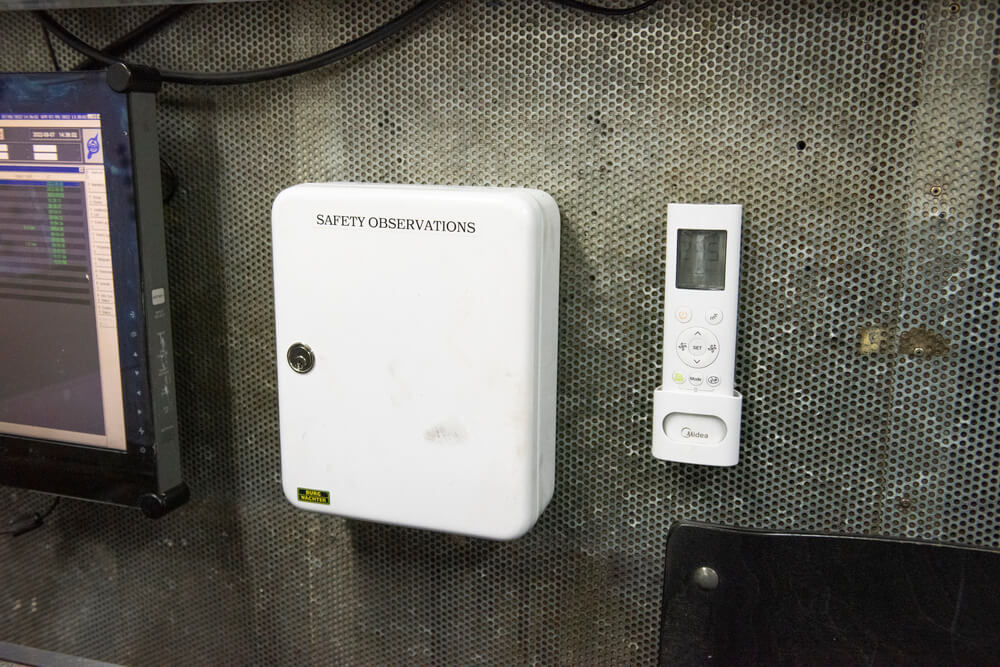 Another daily task, with its own built-in hazards, is mooring when the ship is docking, whether in Holland or England. The handling of the heavy trusses and not least the violent forces at play involves significant risks, especially for hands and fingers, so an extra effort is necessary to be at the forefront of each step.
»Every single task we perform, where we can spot potential risks, is here in Seahealth, simply to minimize the risk of accidents. This also applies to daily routine tasks. I like to take a few rounds around the vessel while people are working and observe them to see if everything is in order, if they are wearing safety vests while loading the car deck, if the ventilation is working and so on,« says Busse.
Although he moves a lot around the ship, Joachim Busse obviously cannot see everything going on, so DFDS has established an onboard scheme where crew members can anonymously submit a concise message in the form of a near miss report.
»Safety is part of DFDS tradition and of the company's culture. I have been to a lot of places for DFDS when we invest in shipping companies, purchase ships and so on, and to that end, I am confident that we are leaders in this field.«
Jesper Bern, Captain, Princess Seaways
Thus, they can report an inappropriate or potentially dangerous task that they believe should be solved in a different way going forward, but without having to engage directly with an officer, which – according to the cultural differences mentioned earlier – can be a rather large barrier.
Through Seahealth, Joachim Busse and his colleagues also have an overview of the ship's chemical inventory and which containers are stored in which cabinets and how they are used, including the safety equipment needed to handle things properly.
For high-risk tasks, such as 'enclosed space entry', i.e., when a crew member needs to venture into for example a ballast or fuel tank, special forms must be filled out, ticking off a large number of boxes before the task itself can be carried out.
»You have to go through all these steps, and then the captain has to sign the form, because these kinds of tasks are one of the most dangerous things you can do here on the ship. If people don't think and aren't properly prepared for this kind of thing, they can die from lack of oxygen. So, everything has to be double-checked,« says Busse.
Focus on doing things by the book
In other words, safety on board Princess Seaways is both historically based, an area that dominates everyday life, and something that will continue to be a major focal point in the future.
For the same reason, Joachim Busse finds it difficult to point to a single area that is given extra high priority in the systems or among the crew. It's about the way you work and the routines Jesper Bern also points to as something that requires attention.
»Most accidents happen when routines kick in, especially on Ro-Ro ferries, with the same route, the same ports, the same people, the same working hours and environment, the same British weather. So our main focus is on doing things by the book, one step at a time, in a safe way,« says Busse.
After this, UFDS gets a longer tour of the Princess Seaways including a visit to the engine. Click through the gallery below the article to get an insight into the various safety measures on board.